Peter McLeish
It is with great sadness that we have to announce that Peter passed away at home on the 1st October after a battle with prostate cancer.
Peter set up the Jim Hamilton Heritage Society in 2004 together with John Zawadzki and had been its Chairman ever since. He was instrumental in setting up the Heritage Centre to house the vast amount of material that Jim Hamilton had collected over the years. Coalburn has lost one of its champions and the Society is so grateful for all his work and enthusiasm that he put into this venture.
Our sympathy to his wife, Jean and his daughters, Barbara and Fiona.
A full obituary will appear in due course.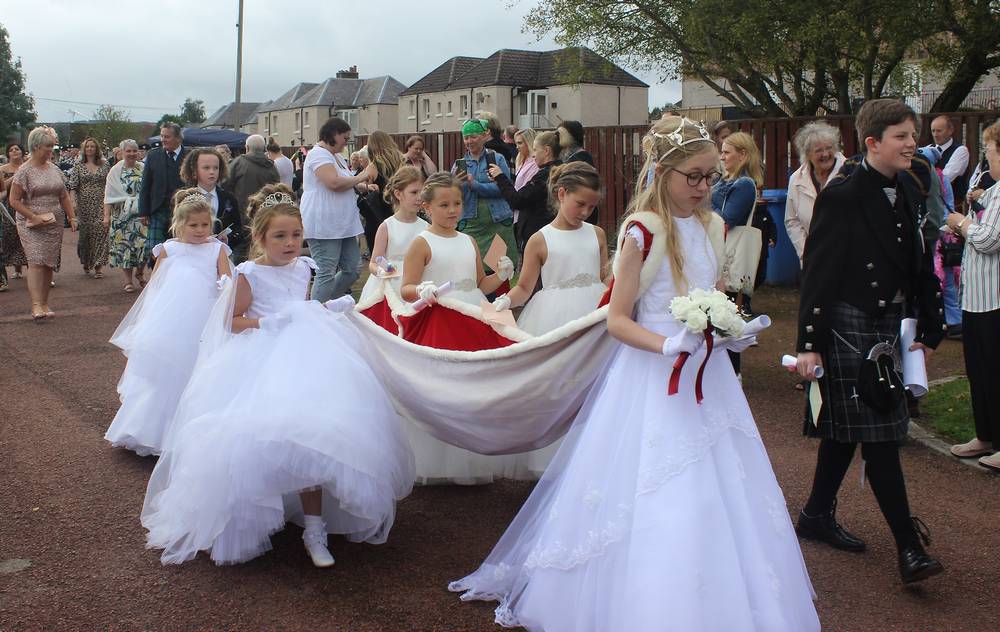 The 2021 Coalburn Gala on the 11th September. Gala Queen Mya and her court return from the crowning podium. A full collection of gala photos by Geoff Brown can be seen from the link below
More photos of the 2021 Coalburn Gala.
Welcome
The Jim Hamilton Heritage Society of Coalburn was established in 2004.
Meetings are held normally on the FIRST and THIRD Wednesdays each month; from SEPTEMBER until APRIL, 7.30pm - 9pm, in Coalburn Bowling Club, next to the Coalburn Miners Welfare's One Stop Shop.
There is an invited guest speaker at each meeting and non-members are welcome to attend.
Coalburn's One Stop Shop
The Society runs the Heritage Centre in the One Stop Shop which contains an archive of photographs, documents and artifacts relating to Coalburn's social history and mining heritage. The majority of these were collected by the late Jim Hamilton.
Officials 2019/20 (To be updated after AGM)
| | |
| --- | --- |
| Chairman | TBA |
| Vice-Chairman | Gilbert Dobbie |
| Secretary | Geoff Brown (Tel. No: 01555 820379) |
| Treasurer | Marion McBain |
| Membership Secretary | Betty Nicol |
An informative newsletter, designed and produced to a high standard by Helen Brownlie of the Society is published quarterly and the printed version is distributed FREE to members (Non-members £2). It also features a record of village events and articles of local interest submitted by members.
An online version is available free to everyone through this website.
What's new
This website now features a comprehensive series of photographs of Coalburn and its surroundings taken by Geoff Brown on the 21st - 23rd July 2021.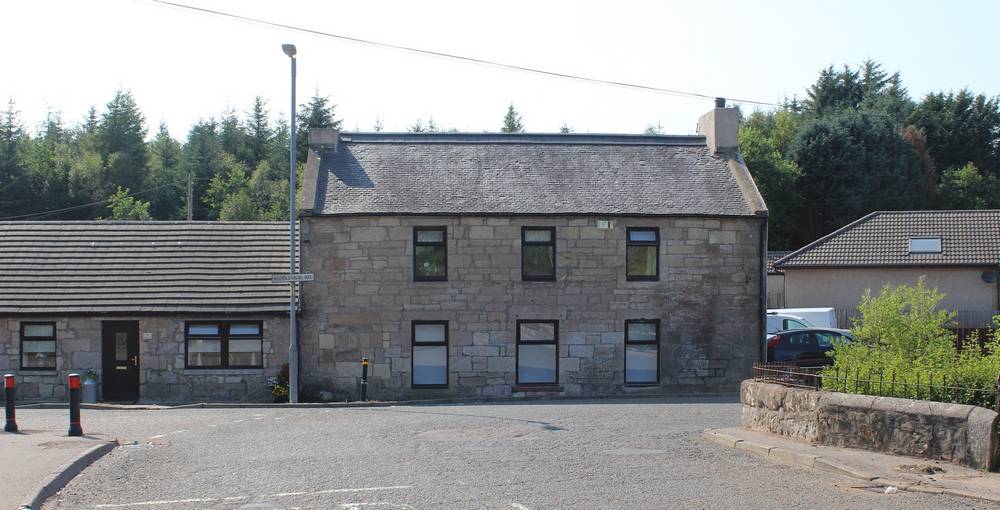 The former Coalburn Inn, now flats
This first page shows Bellfield Road and the Coalburn Brig area.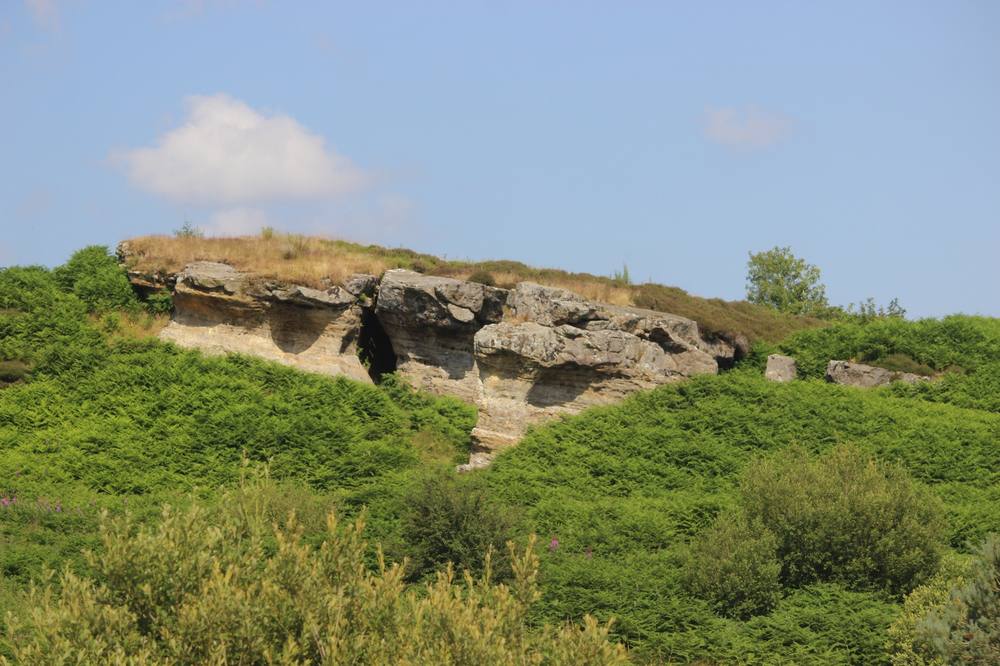 Wallace's Cave
The second page shows the Countryside around Coalburn including Wallace's Cave, Westoun and Stockbriggs.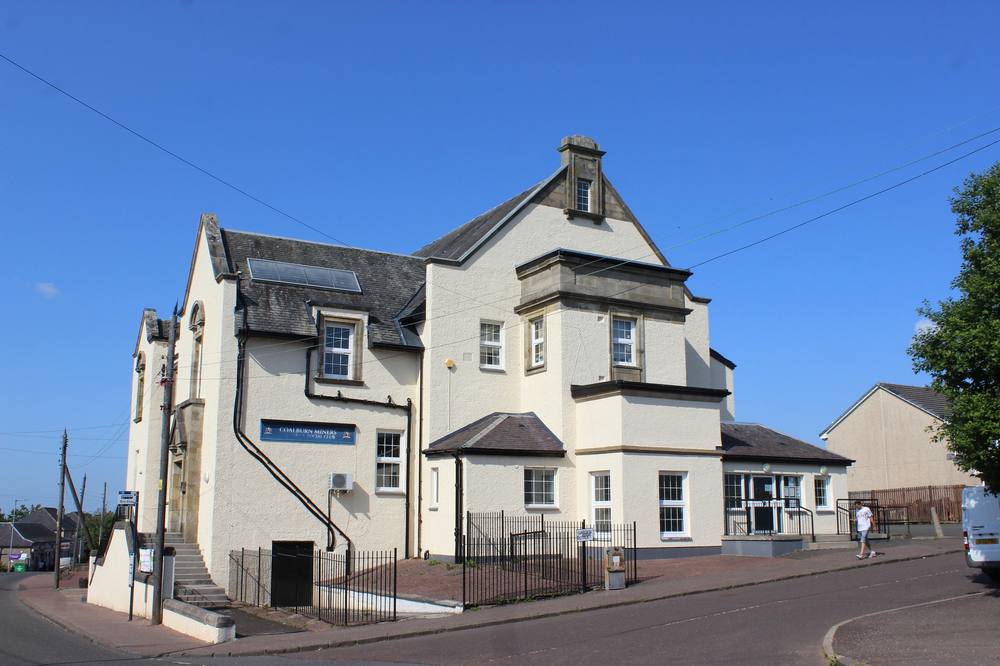 Coalburn Miners Welfare Building
The third page shows Coalburn Road with the side roads Garden Street, Schoolhouse Avenue, Manse Drive, Dunn Crescent and School Road. There also photographs of the area between Coalburn Road and Bellfield Road
The Autumn 2021 Newsletter is now available. 22nd October 2021. This contains Peter McLeish's last message as Chairman of the Society. It also contains a good pictorial account of the 2021 Coalburn Gala.
Photos of Lesmahagow Creamery and other historic photos of Lesmahagow added 3rd July 2021.
The future of the activities of the Society and the Heritage Centre is still unclear. Peter McLeish has had to resign as President for health reasons. An AGM will need to be held to elect a new President and new committee members. It is hoped that this will occur in October or November.
Helen Brownlie is still producing the newsletter quarterly. The printed version is posted to all members by Betty Nicol, but the online version is available through this website. The website is also being updated with new or revised articles and includes Geoff Brown's photos of the 2021 Gala held on the 11th September.
Photos of Auchlochan Walled Garden. including the fleur-de-lys of Stockbriggs House which is now used as a feature in the walled garden. 20th June 2021
The Summer 2021 Newsletter is now available. 8th July 2021.
A new article on Stockbriggs House and Estate posted on 27th April 2021. Updated on 14th May and 2nd June with more historical information.
John Weir's photographs of the ruins of Stockbriggs House still standing today. 24th April 2021
Photos of Stockbriggs taken on 22nd April 2021