Shops in Coalburn Road near the Miners Welfare Building
The article is based on a Powerpoint presentation prepared and presented by the late Peter McLeish in 2010.
The older photographs are from the archived collection in the Heritage Centre and his presentation includes information gleaned from Jim Hamilton's Coalburn Chronicles. Peter comments "Thanks also to the various people, too numerous to mention, who willingly provided information regarding this presentation."
His presentation has been updated with photographs and information on changes since 2010.
Small Shop
What was George Meikle's Cobbler's Shop has seen a few changes over the years.
Murray's - Licensed Betting Office. Year not known.
1983 The Jolly Fryer.
1986 Janice's Unisex Salon.
2010. Now a residential property.
Chemists' Shop and development into a row of shops
Chemists' Shop.
What was known as "The Chemist's" to most of the villagers was actually built by John and Charlotte Laird as a chip shop. Confectionery was also there. Previously they had one of the "house shops" in their home at the top of the station brae.
Maggie (left) and Lizzie Laird who worked in the shop. Photo taken in front of shop window.
Maggie married Willie Scanlon and Lizzie married John Hutchison.
Mrs Sommerville outside the chemists on the Gala Day 1937.
Probably how the shop was over 70 years ago when Archie Sommerville, followed by Archie Milligan and then John Middlemiss in turn were each the chemist. It was last used as a Chemist's shop in 1962.
Selochrome seen advertised in the window was introduced by Ilford Ltd. as roll film in 1931 and then as 35mm film cartridges in 1935.
When John Middlemiss moved from the village, Willie MacKenzie took over the shop and along with his wife Phemie, built up a very successful business.
MacKenzie's Shop
On their death, their son, Tom, took over and for a time things went well. He added the upper floor where he lived. A space was next created for a small tearoom at the lower level. It was not a success. Slowly,but surely the shelves grew more bare and it was no great surprise when the shutters went up. Tom moved to Douglas following the closure.
2nd March 2017. Left shop then occupied by ELT Lettings.
ELT Lettings set up shop here in October 2016 but by the end of March 2017, soon after this photo was taken, they had moved to larger premises in Larkhall.
14th June 2018, the office of a homecare agency, Forever at Home Ltd.
This again was short-lived. Forever at Home Ltd changed its name to "All New Beginnings" and moved to 101 Abbeygreen, Lesmahagow (the former Post Office) in 2019.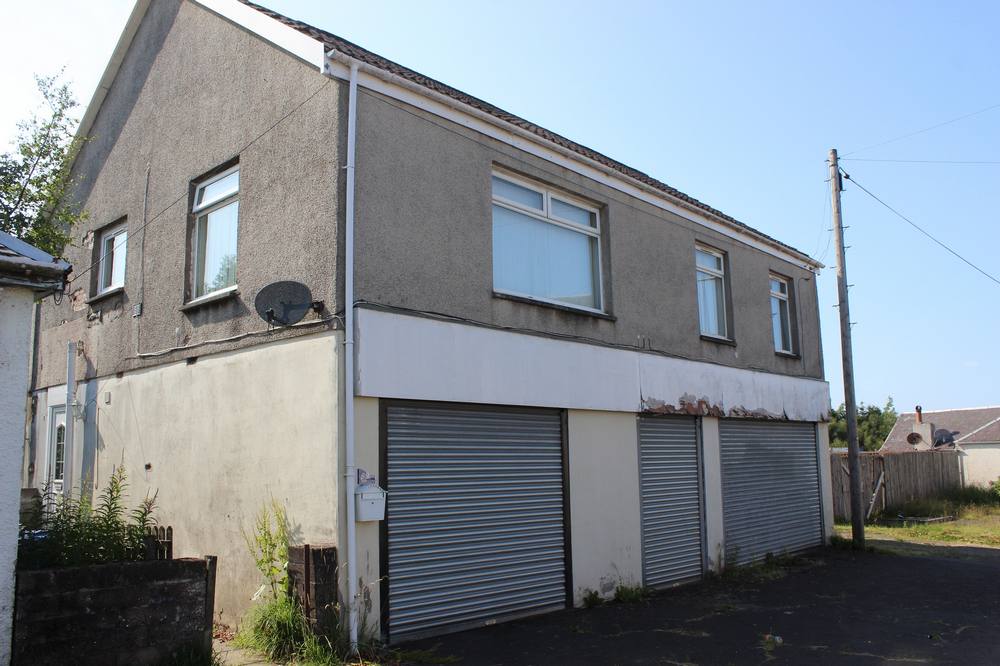 Row of shops in July 2021 (then not in use), Photo:Geoff Brown
Barbers/Hairdressers
To the left of the above row of shops is a small building, that has served a number of purposes.
Barber Harold Brook in the 1950s with his new barber's pole. Harold, who had lived in the village since the 1920s, had this shop built to run his barber business. He left Coalburn in 1962, following the death of his wife Grace, to live with his daughters. Photo: Derek Camp
In 2010, still a hairdresser's, basically for ladies, operated by Grace Gebbie. It was also used as such by Wilma Marshall(Brodie) from the early 1970s. Tom Dickson sold paint and wallpaper prior to that and Willie McKenzie had it for storage.
Forward to current times (2022), Grace now Grace McMahon in her salon:-
Grace McMahon and her hairdressers. Date 10th March 2002. Photos:Geoff Brown
Welfare Cafe
John Giavarini opened a Fish Restaurant opposite the Miners' Welfare. It was built when the Welfare was erected in 1926.
His son, Peter, took over running the shop after his father died.
The Welfare Cafe featured in the film The Big Man released in 1990. The screen shot above shows Danny (Liam Neeson) and Frankie (Billy Connery) discussing things over a poke of chips outside the Cafe
A full account of the Giavarini family and their shops is in a separate article Ices and Fish and Chips in Coalburn.
Former Co-operative Building
The section which was formerly here became too big and has been transferred to its own page at The former Co-operative Building.
The One Stop Shop
The One Stop Shop in the Coalburn Miners Welfare Building offers a range of facilities for the community which in 2010 included a cafe called Cruets run by Elizabeth Jamieson.
Cruets Cafe in the One Stop Shop
Now in 2022, the cafe is called Poppy's Tea Room and is managed by Carolann Wilson.
A past addition within the One Stop Shop was the Post Office which was opened in February 2007 following a period of six months without one.
The above photo of the official shows pupils, Patricia and Lewis, with MSP Karen Gillon, MP David Mundell, Councillor Danny Meikle, Lindsay Smith from the Post Office and Diane Taylor, Centre Manager of the One Stop Shop.
Inside the One Stop Shop.
This was a successful arrangement. However around 2015, the Post Office was keen to extend the opening hours in their branches, which would cause problems for the One Stop Shop. An arrangement was made to transfer the branch and staff to the Day Today Express Convenience Store almost opposite.
Charity Shop in the One Stop Shop
A further project was the introduction of a Charity Shop.
The One Stop Shop. 29th September 2015
Sources of information
Other Shops in Coalburn
Prepared 21st January 2022 by DH. Updated 12th March 2022 with images and info on Gracies. Thanks to Geoff Brown for this and to Derek Camp for information on his grandfather, Harold Brook. Further updated 14th April 2002 with photos by Geoff Brown of Coalburn Store and Coalburn Pharmacy and with the history of the Coalburn Store by Nadar Shahzad. Thanks to them both. Amended 9th May 2022 to move section on the Former Co-operative Building to its own page.